Art Opening Tonight 22 Haviland Street Norwalk
22 Haviland Street,  South Norwalk, CT. 06854
(203) 852.6727 • 22haviland@optonline.net invites you to………
Design & Photography, Opening Reception Friday, Dec. 11 6-9pm
Dec.11-20 (Fri 6-9pm, Wed. 3-5pm, S/S 1-5pm) or by appt.
Thanks all for stopping by the gallery over the Shop in Peace Thanksgiving weekend!
We're hosting a new collection of Design and Photography Dec. 11 – Dec. 20:
Design for the Table: Karen Ford's functional porcelain tableware with melted glass inlay and Jeanne Melillo's unique Table Runners and Place mats. Photography for the soul: Tom Mezzanotte's extra-ordinary tintypes, Marjorie Wolfe's minimal landscapes, Dru Nadler's ethereal dress series.…Appetizers from Indian Bistro Coromandel at Friday Dec.11 free Opening Reception 6-9pm…plus fresh samples of Japanalia's handmade designer clothing on sale, Sue Brown Gordon's jewelry, Mike Dennan's "faux-a's"….
Look forward to wrapping up 2009 with you…if you're down here on Sunday 12/13 explore the 1st annual SoNo Holiday Stroll and Arts & Crafts Fair one street over, on Washington St., 12-6pm.….hope to see you! Dennis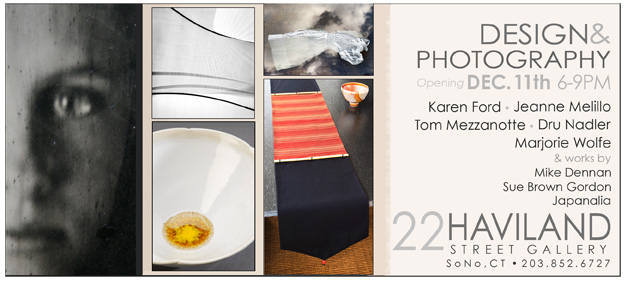 22 Haviland Street Gallery is located at #22 Haviland St. in downtown South Norwalk, Ct. in a 19th c. house (it's the 7th house on the right) across from the Haviland Street Parking Deck – (parking fee $1/hr). On-street parking in the area is FREE after 6pm & on Sundays.  22haviland@optonline.net or  (203) 852-6727 for info.